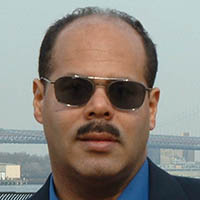 Aldo Romero, the executive Director of Symbiotic Productions, has worked on television commercials and features for the last fifteen years. He has worked in the production department on such productions as "The Siege", "Godzilla", "Die Hard with a Vengeance", "The Professional", "A Bronx Tale" and "Carlito's Way" as well as television shows like "NYPD Blue" and "New York Undercover." Credits as Director of Photography on low budget features include "REPRISAL", "THE FORCE WITHIN" and several music videos including the Wu Tang Clan's "Method Man" video. He was also a model maker on such feature projects as "HOTHEADS", "CUL DE SAC", "RUN FOR COVER" and "SECOND SIGHT" for Lorimar Pictures as well as number of TV commercials. In 1989 Symbiotic Productions was formed in order to service the independent film maker and produce original film projects.
Symbiotic Productions is a New York based Production Company which specializes in Motion Graphics, Post Production, New Media and original content development. Some of the clients we have served have included CHASE SAPPHIRE, YAHOO, CANNON, JET BLUE, INDIE PIX and numerous independent film makers. In 2003, Symbiotic productions was restructured to provide post production services for independent filmmakers ranging from Visual Effects to New Media.
Other projects Include post production supervising for various feature films including, "SPANISH HARLEM; FOR LOVE OR MONEY", the science fiction thriller, "THE FINAL EQUATION" directed by Dan Abella and more recently on the comedy project, NEOWORLD TV. Projects in which Mr. Romero was the Visual Effects Supervisor include, "WINTER SOLSTICE", "THE SIGNS OF THE CROSS", "THE FINAL EQUATION", "THE DEAD AWAKENINGS TRILOGY", "VODKA ROCKS", "NORMAN NORMAL" and "LIFTED" the latest film by student Academy Award winner, Randy Dottin.
Some of the original film projects include "SYMBIOSIS" which was featured at the 1993 Chicago Latino Film Festival. Aldo Romero also directed "SIMULATOR", which was featured at the 2000 Independent Feature Market, the 2002 New York Latino Film Festival and aired on the acclaimed PBS channel thirteen series "REEL NEW YORK". He produced a documentary film about the events of 9-11 called "RESURGENCE". He produced and Directed "STORAGE UNIT # 57" which screened as part of the 2007 Cannes Short Film Corner. " STORAGE UNIT # 57" also won best suspense short at the 2007 Long Island Latino Film Festival and was the official selection of the 2008 Fright Night Film Festival. In 2009 he produced the animated short, "THE SECRET LIFE OF COINS", which received an award for honorable mention at the 2009 Long Island Latino Film Festival. He and 3D Verse Productions recently Co produced an online trailer for, "ENIGMA RUNNING", a CG Animated TV PILOT. He recently completed the opening credit sequence for the TV pilot, "SMALL M IRACLES". He is currently developing a feature script entitled "SILENT THREAT". He was chosen for the 2010 Latino Producers Academy with his feature project, 'SILENT THREAT'. The short film based on this project, SILENT THREAT: PRELUDE" had its premiere in the 2012 Philip K. Dick Science Fiction Film Festival. SILENT THREAT has just released as part of a webisode entitled SILENT THREAT: ANTHOLOGY.
Running Sneakers
nike dunk low white gray blue color chart Light Smoke Grey