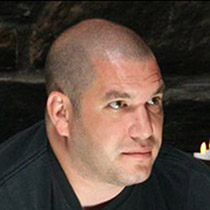 David (also known as "DaveCat") is the Creator/Director/Producer of the viral internet series "The Smalls Family" which uses the hip-hop lyrics of the late Notorious B.I.G (Biggie Smalls) in an innovative sit-com format. The web series has been featured on Funny or Die and has been written up on dozens of blogs and sites including Rolling Stone, Yahoo! Music, and XXL.
Catalano has over 15 years of professional film production experience mostly as an Assistant Director. In 1995 he was the first-ever scholarship award winner of the New York Film Academy where he was taught by Brett Ratner (Rush Hour, Hannibal) among others. There he made two award-winning short films, No Ordinary Jack and One Lucky Fella, that traveled to film festivals all over the world. During his production career, David has had the opportunity to work under such great filmmakers as Steven Spielberg (War of the Worlds), Martin Scorsese (Boardwalk Empire), Ron Howard (A Beautiful Mind), Tony Scott (The Taking of Pelham 1:23), Sam Raimi (SpiderMan 2), Sam Mendes (Away We Go), Ivan Reitman (My Super Ex-Girlfriend), and John Gray (White Irish Drinkers) just to name a few.
David has directed numerous short films and music videos and has been a member of the prestigious Director's Guild of America (DGA) since 2004. Catalano's first feature film that he wrote and directed, Strutting into Chaos, is due to travel the festival circuit in 2014.
THE SMALLS FAMILY on David Catalano's Channel
www.YouTube.com
2013 Article: The Smalls Family
www.rollingstone.com
2013 Interview: The Smalls Family
www.xxlmag.com
2014 interview on HIVE SOCIETY
www.HiveSociety.com
2014 AMERICAN RIDDLE podcast interview
www.AmericanRiddle.com
2014 NUTRAL TV feature
www.NutralTV.com
2014 2MINXINX article
www.2minxinx.com
Interview With RevoltTV
www.Revolt.TV
latest Nike release
Women's Nike Superrep