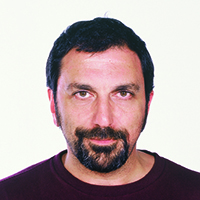 Jerry was born in Cleveland, Ohio. At the age of five his family moved to Harrison, NY in Westchester county. In 1975 Jerry auditioned for a Woodstock based group called Orleans and got the job. Soon afterwards he found himself in L.A. recording the "Waking and Dreaming" record, played on his first hit "Still The One" and on the road,with Orleans, supporting Jackson Browne. Orleans founding member, John Hall, left the band in the summer of 1977 and as the band took time to decide what their next move would be Jerry flew to London and started working with ex.Genesis lead singer Peter Gabriel. For the next ten years Jerry divided his time between recording and touring with Peter Gabriel, Daryl Hall and John Oates, Tears for Fears, Orleans, Joan Armatrading, & Paul McCartney.
In 1986 Jerry started his own band "Island Of Men" moved From New York City to Woodstock, NY, put together his studio "JERSVILLE" and began producing recordings for his band and others. Jerry continued to record and tour with myriad artists, including; The Indigo Girls,10,000 Maniacs, Stevie Nicks, Suzanne Vega, David Sylvian, Robert Fripp, Sheryl Crowe, Jewel, Suzanne Vega, Sean Lennon, Elvis Costello, Peter Murphy, & Ani Defranco. Jerry has also produced records for Katrin Roush, Kristen Hall, Barbara Kessler, Ellis Paul, Jenny Bird, Pam Golden, Andy Caine, Gabriella Schaaf, Marotta Griesgraber, & The Tony Levin Band.
Jerry currently runs and operates the historic Dreamland Recording Studios in West Hurley, NY. Recent projects there have included the following artists; The Hold Steady, Fleet Foxes, Peter Primamore, Durga Das, The Panics, Axelle Red, Anjani Thomas, Mark Plati, Vidar, The Broken Gurus, Future Islands, & Peter Murphy. He can also be currently seen on frequent tours or performing with Linda Eder, Joan Osborne, Katrin Roush, Tony Levin, and The Security Project. Each year, Jerry and his Brother Rick Marotta perform the drums on the Survivor season finale.
2014 Interview:
trace affiliate link
Mens Flynit Trainers